More Info
Shipping Info:
Print prices include US Postal Service shipping to the lower 48 states and tax if applicable. For orders outside the 48 states, please email inquiries to vaughn@vaughnsphotoart.com.
Payment Accepted:
About Your Prints:
Each image is available in specific print sizes, depending on the aspect ratio and size of the original. If the image you want isn't available in the size you want, inquire at
vaughn@vaughnsphotoart.com
. Usually we can accommodate.
All orders will be shipped directly from the print house to your door.
Quality:
All prints are shipped FLAT. As of 1/1/2006, I've switched to a new print house. All orders are shipped flat, not rolled.
Your photos are printed on high-quality Kodak Endura papers, using an exposure technique that simulates conventional silver-halide printing. A point light source inside the digital printer exposes the photographic paper pixel by pixel. This process mimics traditional photography, in which light from the subject exposes photographic film inside of a camera, but does not suffer from the expansion blur that comes with enlargements. The result? Crisp, vibrant prints with amazing longevity.
Privacy Policy
Since I have added Google Ads to some of my pages, I am required to include the following information about Google and the DoubleClick cookie:
Google, as a third party vendor, uses cookies to serve ads on this site.
Google's use of the DoubleClick cookie enables it and its partners to serve ads to you users based on your visit to this site and/or other sites on the Internet.
You may opt out of the use of the DoubleClick cookie by visiting the Google ad and content network privacy policy.
"Aren't You Afraid Someone Will Steal Your Images?"
People have asked if we worry that someone will steal the images, since large views of each image are available. The answer is not really. The large view images on this website are "screen quality" only. The full size originals that the prints are made from have about 25 times as much detail.
Look for yourself.
We took one of the website images, resized it back up to original size, and then compared it to the original. As you can see, the screen quality images on this website are a poor substitute for a full resolution print.
About the Photographer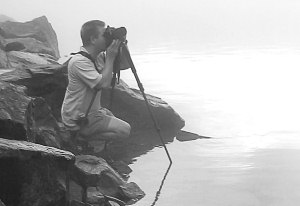 Photographer Vaughn Teegarden at Watauga Lake, TN
photo credit: Jymmi Davis
Vaughn Teegarden was raised in New Jersey, where he began his interest in photography. First with point-and-shoot type cameras, then later with a SLR, a used Pentax K-1000 that was given to him by a friend.
Vaughn now lives in East Tennessee, and shoots exclusively digital, using a Canon 5d. He appreciates the environmental friendliness of digital, as he can shoot a thousand frames and not use a single piece of film, cardboard packaging, or plastic film cannister. Vaughn shoots nearly every weekend, and often during the week as well, sometimes taking a long quiet hike by himself, sometimes bringing his daughters along to experience the wonders of nature.
Vaughn's love of nature permeates his work, showing in the attention to detail and emotional expression his work demonstrates.